Alfresco Pasta uses only the best, hand-picked ingredients, perfected recipes, detailed processes and customized, handcrafted Italian pasta machines to make their pasta. They hold their products, people and facilities to the highest standards for safety, consistency, performance and taste.
Alfresco Pasta is owned & operated by Chris Grissom. Learn more or ask Chris about ordering products now in our chat below.
Custom Chef Recipe Production: Alfresco Pasta is ready to become YOUR Pasta Kitchen, partnering with you to produce your pasta recipes to your specifications delivered consistently to your restaurant!
WHOLESALE
Pizza Dough
Whole Wheat Pizza Dough
Handcrafted Pasta

Angel Hair
Basil Pasta
Bucatini
Campanelle
Casarecce (Gemelli)
Cavatelli
Chili Galletti
Fettuccine
Fieno
Garganelli
Linguini
Pappardelle
Pasta Sheets
Ricotta Gnocchi
Rigatoni
Spaghetti
Spinach Fettuccine
Spinach Gnocchi
Squid Ink Spaghetti
Sweet Potato Gnocchi

Specialty & Local Favorites

Andouille Sausage, Fresh Vegetables, Crayfish Tails and Pepper Jack Cheese Ravioli in Roasted Red Pepper Pasta
Benton's Smoky Mountain Bacon, Caramelized Onion, Tennessee White Cheddar Ravioli, Fresh Chicken, Spinach & Whole Milk Mozzarella Ravioli
Braised Beef Ravioli
Fresh Gulf Coast Blue Crab, Lemon, Scallion, Maine Lobster Ravioli in Saffron Pasta
Fresh Roasted Butternut Squash Ravioli
Garlic Fresh Parsley Fettuccine
Gulf Shrimp & Fresh Ricotta Ravioli in Fresh Herb Pasta
Heart Shaved Maine Lobster & Sweet Corn Ravioli
Joyce Farms Chicken, Fresh Rosemary Tortelloni
Lemon Ricotta "Pillows"
Local Sweet Potato Ricotta Impastata & Fresh Basil Ravioli
Local Tennessee Mushroom & Kale Cannelloni
Maine Lobster & Sweet Corn Ravioli
Maine Lobster Ravioli Layered in Squid Ink and Egg Pasta
Maine Lobster & Sweet Corn Cannelloni
Mozzarella, Roasted Garlic and Spinach Ravioli
Nashville Hot Chicken Mac and Cheese
Pancetta Scallion Gnocchi
Ravioli with Four Italian Cheeses
Roasted Vegetables, Fresh Herbs & Wisconsin Cheese Ravioli
Smoked Gouda Ravioli
Southern Sweet Corn, Polenta, Fresh Ricotta Ravioli in Beet Pasta
Spring Pea and Yukon Gold Ravioli
Traditional Basil Pesto
Tri Color Tortellini
Tuscan Ravioli
Wild Mushroom Ravioli
Wisconsin Cheese Tortellini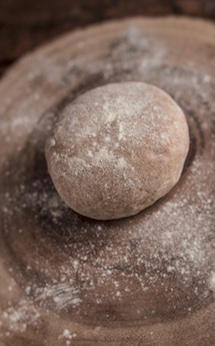 Whole Wheat Pizza Dough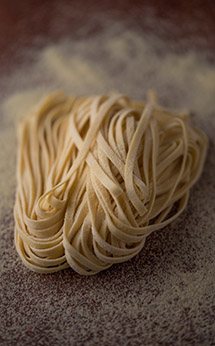 Fieno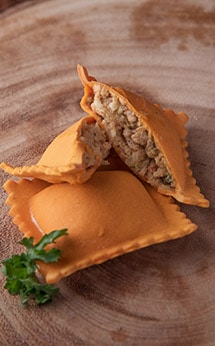 Andouille Sausage, Fresh Vegetables, Crayfish Tails and Pepper Jack Cheese Ravioli in Roasted Red Pepper Pasta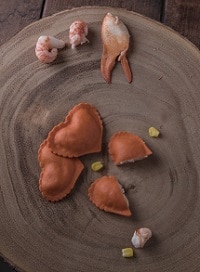 Heart Shaved Maine Lobster & Sweet Corn Ravioli
Meet YOUR new Pasta Team at Alfresco Pasta >>
Owner Operator Chef Chris Grissom and his dedicated culinary team operate Alfresco Pasta as a unique, small-batch artisan pasta kitchen with big capabilities, sourcing local ingredients, collaborating with chef and retail clients and delivering hand-crafted quality and taste to kitchens across the country.
Meet Chris Grissom >>
After more than two decades spent opening and operating restaurant and catering businesses around the country, Executive Chef Chris Grissom realized his lifelong dream: to create his own successful hand-crafted artisan specialty foods company. Chris founded Alfresco Pasta in in Nashville, Tennessee the spring of 2000, and quickly built a solid reputation and an impressive customer list across the Southeast.
Meet Saverio Castellucci >>
Sav brings incredible culinary talent to the Alfresco Pasta kitchen as Culinary Specialist leading the team of chefs that serve as YOUR pasta kitchen. Born in Rome, Italy, Sav was brought up surrounded by authentic Italian food and has extensive knowledge and history in making pasta. At the age of 18 he moved to Chicago with his family and started out working in a small business. He opened three restaurants in Chicago and just recently settled in Nashville. In his free he enjoys listening to live acts, acting, and playing sports. He is an enthusiastic supporter of local food and chefs.